Welcome to
THE MUSIC SECTION
I like music a lot and find it relaxing. I have a large collection of midi files and I would like you to enjoy them too. They are among the highest quality on the internet.
I think that midi is actually a very good music format. Not only does it take up very little space, making it easy to download and store, but also most midi has pretty high music quality. If you don't think so, I recommend that you download the midi drivers from Yamaha. Alternatively, you could obtain a state of the art sound card.

Please choose the category you are interested in...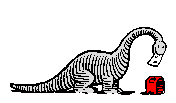 Please e-mail me for your comments and suggestions. If you would like midi files you have created to be posted here, you can send them to me.